There are a variety of coffee production areas in the country. KDS in its efforts to support farmers has established an out growers scheme specifically geared toward quality coffee production.
Robusta Coffee
Grown in the low altitude areas of Central, Eastern, Western and South Eastern Uganda up to 1,200 meters above sea level.
Arabica Coffee

Grown in the highland areas on the slopes of Mount Elgon in the East and Mt. Rwenzori and Mt. Muhabura in the South Western Region (1500-2,300 m above sea level).
Unlike Robusta whose native habitat is the Lake Victoria Crescent, Arabica coffee is an introduced crop originating from Ethiopia.
Arabica coffee is more competitive on the international market because of its superior quality. Uganda Robusta too has intrinsic quality attributes which also attract a premium on the international coffee market.
There is, also, a new Arabica variety locally known as Tuzza, commonly referred to as catimors which performs well in low altitude areas of the country predominantly zoned for Robusta coffee, (1,200-1,500 m). This variety is known for its high yielding capabilities, drought resistance and tolerance to diseases presenting a very attractive opportunity for investment.
The map below shows all the key agricultural areas.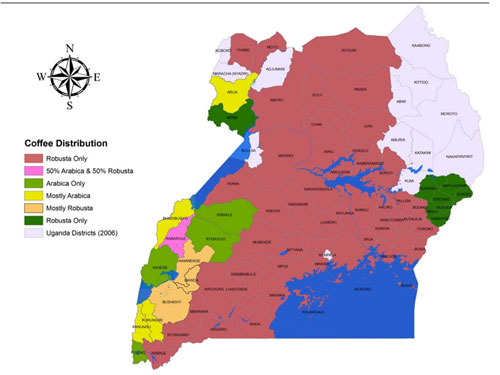 Robusta Coffee (brown key) is largely grown across the country and KDS is proudly part of this great work.